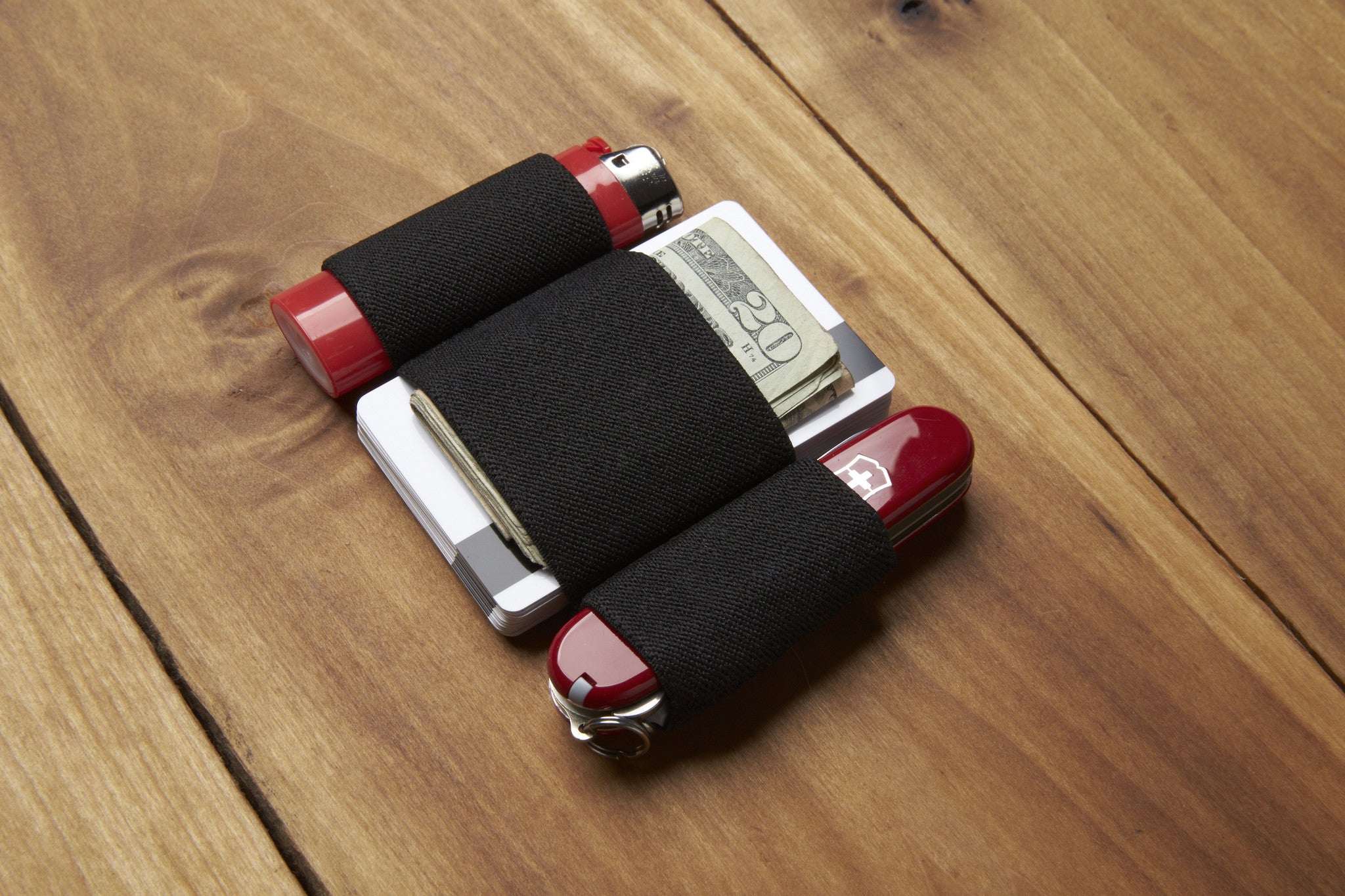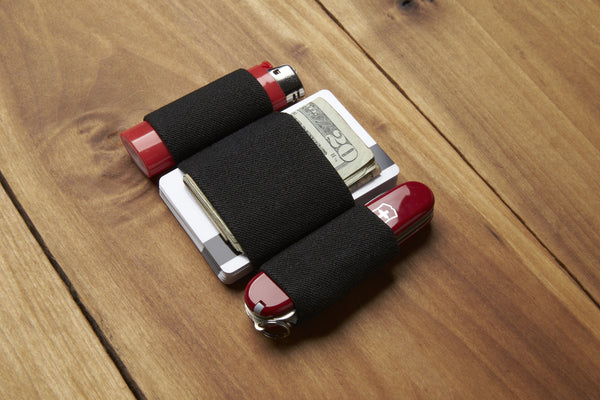 GearWallet combines the slim profile of a minimalist wallet with the functionality of a gear organizer. The design philosophy is "carry more, with less."
 Specs:
Elastic webbing construction with 60% stretch rating.
Center pouch sized for credit cards, cigarettes, Altoids tin, or knife sheath.
Side pockets designed to hold tools, charging cables, and other gear. 
Stitched in USA with American webbing and bonded nylon thread. 
When it comes to my everyday carry, I aim for a "Maximalist/Minimalist" approach. My focus is on gear that offers as much utility as possible, while at the same time keeping bulk to a minimum. 
There's only so much room in a slim fitting pair of jeans, and at the time, I was maxed out as far as pocket space went. There was simply no way to carry more gear without resorting to the purgatory that is cargo pants. 
The drive to add a few more items to my EDC, without buying a new wardrobe, was what lead to the development of the GearWallet.
Now instead of just having a wallet in my back pocket, I can have my wallet, plus two tools of my choosing. And due to the elastic nature of the pouches, there's a lot of options to chose from in terms of what to carry. 
By using elastic webbing and keeping the tools parallel to the credit cards, the wallet remains very slim in the back pocket.
At the same time though, you are not limited to slim items. The central pocket is primarily intended to hold cards + cash, but it can also hold much thicker items such as a pack of cigarettes, an Altoids Survival tin, or even something a bit more conspicuous.
Shown here, the GearWallet is repurposed as a gear pouch for my knife sheath, holding a Swiss Army Knife, a Lanksy Fold-a-Vee knife sharpener, and a Field Lighter. 
The GearWallet is made out of heavy duty, American made elastic webbing, and it is stitched together with bonded, nylon thread. 
What you chose to carry in it is up to you.