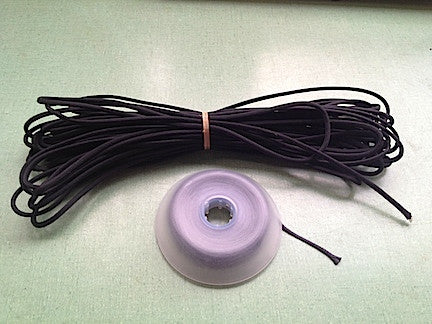 Sale
I designed Compact Survival Cord to allow you to carry a large quantity of high strength cordage in a package that is small enough for your pocket, and fast to deploy when you need it.
Small Technora Specs:
50' x 600lb braided Technora
3.5" x 0.75"
47 Grams
Compared to traditional 550 Paracord, CSC is significantly smaller and lighter - while still being strong enough to count on in an emergency. This is a picture of 50' of Paracord, compared to the CSC Micro, Mini, and Small. 
The Small is the high performance version of CSC. It contains 50 feet of Technora line, which has a break strength of over 600lbs, in a package small enough to fit in your back pocket.
Technora is 8x stronger than steel by weight, maintains strength up to 800 degrees, and is totally resistant to acids, alkalis, and seawater. Basically, Technora line is Kevlar on steroids. 
The main benefit of Terchnora 600 is that it is stronger and more durable than standard 550 Paracord, at less than half the diameter.
The CSC Small allows you to carry a large amount of ultra strong cordage in a much smaller package than you could with Paracord, making it ideal for use in cargo pants, BUGOUT bags, and emergency kits. Here's the CSC Small vs. 50' of Paracord.
CSC Spools are designed for rapid deployment, which in an emergency offers a significant tactical advantage when compared to using a paracord bracelet, which takes several minutes to deploy. 
Compact Survival Cord is made with pride in the USA, and is the ideal cordage for EDC, emergency preparedness, and ultralight backpacking.