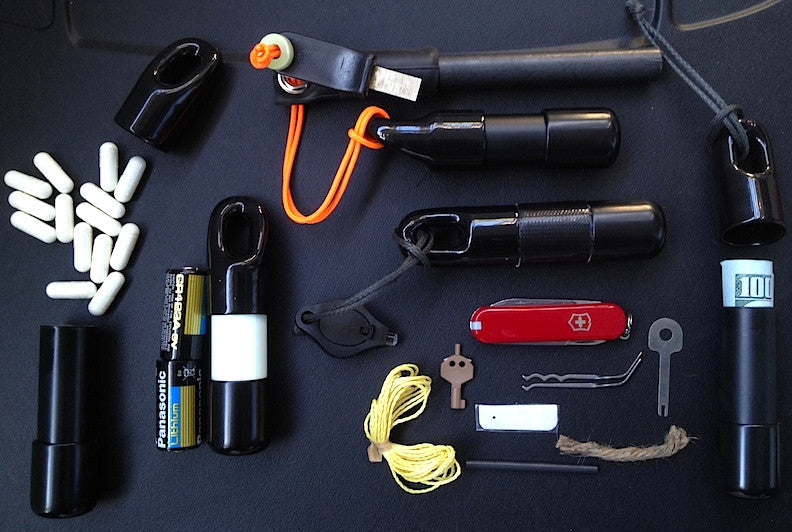 Go-tubes are incredibly versatile, waterproof containers for storing cash, CR123 batteries, SERE kits, and a variety of other items. 
The 2.6 is a special version of the Go-Tube custom made for Gearward. 
The Go-Tube is the brainchild of Karl "SnakeDr" of OscarDeltaSPD. He designed it as a waterproof, non-metallic case for concealing small, important items. As he says, "an item that cannot be found, cannot be taken," making the Go-Tube ideal for storing SERE/Escape equipment.
Here's an example of a Go-Tube 2.6 SERE kit. Despite it's small size, the 2.6" x 0.625" inner compartment can hold an impressive array of tools: A Swiss Army Knife, Bogota Nano lock picks, polymer handcuff key, handcuff shim, 6' of 200lb Kevlar cord, a ceramic razor blade, 2" of Fire Cord, and a 1/8" x 2" Firesteel. Rounding out the kit, the space between the endcaps has been wrapped in 1' of Gorilla Tape. 
I've been using the original Go-Tube for several years now, and I've found it to be a very handy item. However, at 3.25" long, the size was a little off for what I mainly wanted to carry: cash and batteries.
Original vs. 2.6:
By some strange twist of the design universe, the US Dollar and 2 CR123 Batteries are both 2.6" long. So, I contacted Karl, and he made a custom run in that size.
I couldn't be more pleased with the results. The 2.6" size is much handier, and is perfect for storing $1000 in 100's:
Whether I'm in downtown Prague while traveling, or downtown LA during an earthquake, I wanted the ability to carry cash securely. The unique design of the Go-Tube allows me to conceal a large sum of cash in a unconventional way that cannot be taken by muggers or pick pockets - well, unless they're extremely attractive:
The other primary use of the Go-Tube is as a waterproof container for CR123 batteries to keep in my bag. With the custom 2.6" length, the batteries are held perfectly without rattling. Shown with GITD Tape wrap.
To my knowledge, the Go-Tube 2.6 is lightest and most compact waterproof case available for CR123's.
The waterproof nature of the container also makes it ideal for holding pills. This is ideal for storing medications in your BUGOUT bag, which may be subject to rain and floodwaters in an emergency.
The Go-Tube also makes for a handy waterproof tinder container for attaching to a firesteel. The 2.6 holds 6 Petroleum Jelly Cotton Balls, allowing you to rapidly start a fire in even the most severe conditions.
Go-Tube 2.6's can be wrapped with a short strip of JVCC glow in the dark tape, which fits perfectly between the endcaps and will glow for up to 6 hours:
If you're looking for a handy and versatile container, the Go-Tube is one of the best. It's truly incredible how many things can fit inside such a little package, and I'm finding new uses for them all the time. 
The Go-Tube 2.6 is made by OscarDelta in England.