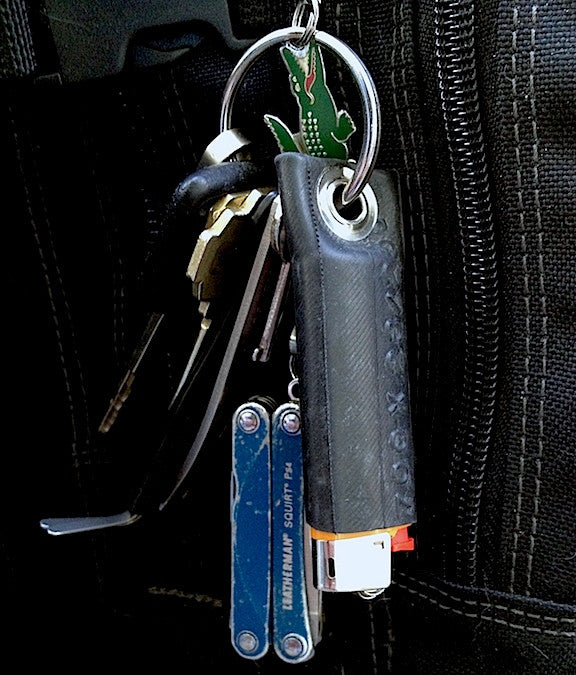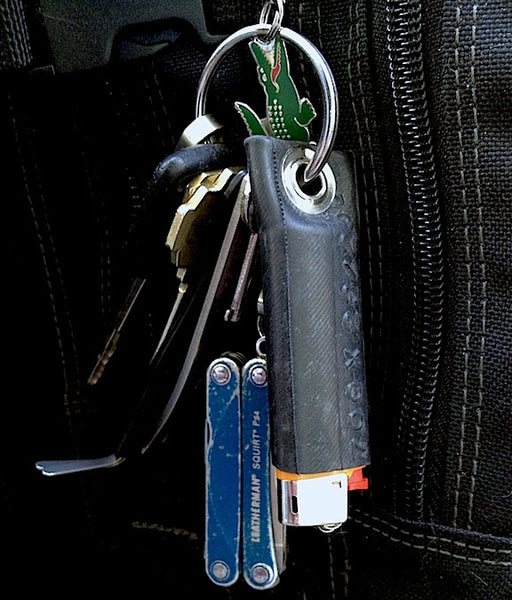 The Ranger Bic transforms a regular Mini Bic into a keychain survival lighter.
Specs:
Keeps a lighter secured to your keys so that it's always handy
Bic can be reversed in the sheath, making it completely waterproof 
Sheath can be cut into 5 strips of waterproof tinder that burn for 2 minutes
3.0 version made out of custom EPDM tube for better fit 
The primary benefit of the Ranger Bic is that it allows you to keep a lighter on your keys. I strongly believe that the keychain is the foundation of preparedness, because unless I've locked myself out of the house, my keys will always be with me.
Since fire is one of the most important elements of being prepared (especially when you're a smoker and a fireworks fiend) it's very reassuring to have a backup lighter right should your primary lighter run out of fuel. 
The 3.0 sheath is made out of EPDM Rubber, which is extremely durable, feels great in the hand, and provides a non-slip grip.
The other major advantage of a the Ranger Bic is that rubber is flammable. If you need to start a fire while camping, on the beach, or in an emergency, the sheath can be cut into 5 strips of "tire tinder."
Each 1/2″ x 2″ strip will burn for exactly 2 minutes; you can set your watch to it. Because it is made out of non-absorbent rubber, it is also completely waterproof.
A strip of tire tinder provides quite a bit of fire. This is one piece, about a minute into it. Each piece produces a steady, 3″-4″ high flame for 2 minutes, enough to light most materials in most situations.
When working around water, simply flip the Bic so that the striker wheel is in the bottom of the case. It's now waterproof:
After 5 minutes submerged, the Bic lit on it's first strike.
In addition to my keychain carry, I mount Ranger Bic's onto pretty much anything that I can.
On the side of my Bugout Bag for quick access:
On the inside of my EDC bag:
Dummy corded to my Belt when hiking:
I also keep one connected to a Go-Tube full of tinder, which makes for a great, compact fire starting kit:
Every Ranger Bic is hand made in the USA, and I think you will find it to be an eminently practical addition to your EDC and fire starting kit. 
Evolution of the Ranger Bic: The original "keychain mini Bic;" Ranger 1.0 made out of racing bike tires; 2.0 made out of 7/8" EPDM; 3.0 made out of 1" EPDM for easier fit.
**Please be advised that the Ranger Bic is the sheath only, and does not include the Mini-Bic itself. Postal Regulations prevent shipping Bic's in the mail. **